When you want to get updated with what goes on around the globe, the best place to be is FunAfrique's News section. Here you can find the most relevant, fresh and balance news as it happens. Our news section is user generated and therefore, you can also join in its reporting making its content as relevant as possible.
On top of all that, you can voice your opinion on any news article presented. Not only does this provide

Read More
Trade Ministry purchases Kantaka vehicle
Date: Friday 19th May, 2017
The Ministry of Trade and Industry has purchased the 'Kantanka SUV Car' at a cost of GHȼ150,000.00.
Mr Alan Kyeremanten, the Sector Minister, receiving the vehicle at a ceremony in Accra, said the initiative was to encourage Ghanaians to buy made in Ghana products to boost local production.
Mr Kyeremanten said the gesture was part of government's vision to support local enterprises and initiatives to expand production and create jobs for the citizenry.
He said the Kantanka brand had distinguished itself in developing local skills and new technologies and called for support from institutions to ensure the technologies produced get international recognition.
The Minister urged the public to buy the vehicles and other made in Ghana products to increase local enterprises in the country.
Mr Kwadwo Safo Junior, the Chief Executive Officer of Kantanka Automobile, commended the government for taking the initiative to purchase the vehicle, saying it would boost public confidence to patronize their products.
He said the company had the capacity to produce more vehicles and that it manufactured 70 per cent of its products while importing 30 per cent.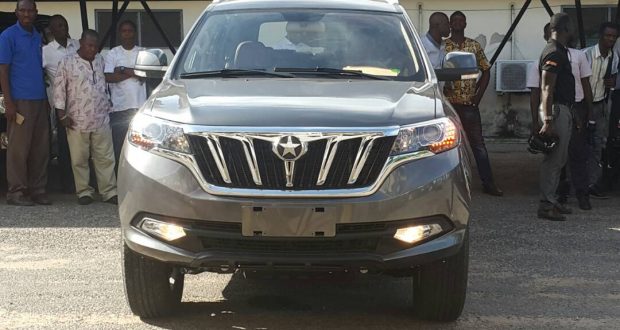 Mr Safo Junior said the company had been involved in the assembling of vehicles in the country some years ago in a bid to help improve the automobile industry and allow for competition on the international scene.
Source: GNA